From flip phones to smartphones, technology has quickly advanced over the past 20 years. You can now do practically anything from your smartphone: order groceries online and get them delivered to your house, watch movies and shows, play games, and so much more! So it only makes sense that there be an app that would allow a cleaning business to work from their phone, right?
That's where MaidEasy comes in. With our cleaning management app, you are able to work from anywhere. The MaidEasy cleaning service app was made for cleaning business owners and employees alike to improve communication, offer convenience, and really go above and beyond with superior customer service for clients.
MaidEasy's house cleaning app is convenient for you to use both in the office and out in the field (while also having access to the desktop software). You can be sitting at home in your pajamas doing payroll, or making schedules for employees while running errands for the business. Not only are owners and managers benefitting, but employees will also feel the convenience of having the app on their smartphones as well. When employees are out in the field, they are able to clock in and out, receive work orders, take any necessary notes about a client's house, view cleaning details, and much more.  
Even if the app is convenient, we understand technology can be a little intimidating. The MaidEasy mobile app has been designed with that in mind. The app is easy to navigate and has an easy interface that ANYONE can use!
If you need additional help, we even have multiple in-depth video tutorials on how to use the app on features such as:
Maid Management Scheduling
Cleaning Service Payroll Management
Entering a New Customer
Making a Work Order
Clear Communication On The Job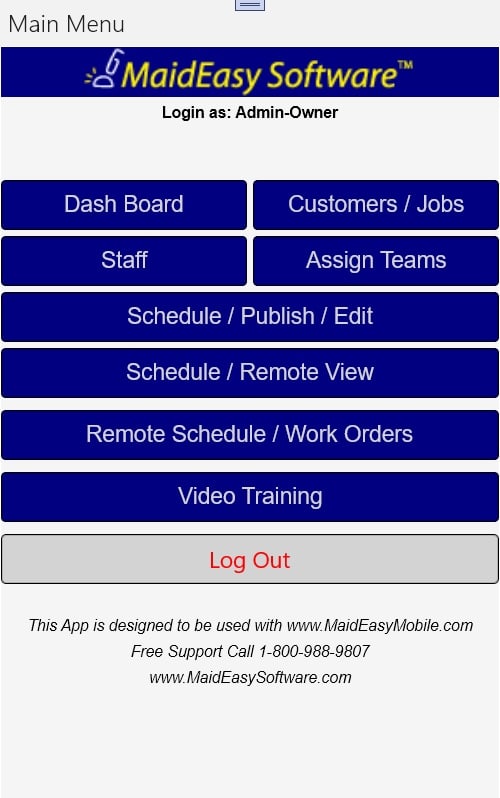 The cleaning management app also allows for real-time communication. If the manager needs to communicate job changes while employees are out in the field, they can simply update the app, and the staff will be able to see the changes come through in real time. On top of being able to communicate with employees, managers are even able to communicate with the client. The automated texting feature of our mobile app is able to let the client immediately know about the personnel change. The best part of this? Scheduling changes no longer have to be so inconvenient with MaidEasy's cleaning management software.  All of this communication doesn't have to be done from the office – but from wherever you and your phone are at the time.
One of the most important features that MaidEasy's cleaning business app provides is superior customer service. No matter where you are, any client changes or updates can easily be accessed from the app. Even when getting a call from a new customer, you can easily add new client details using the app: getting their personal information, what the client specifically needs to be cleaned, any extra notes, scheduling their first appointment, and assigning a maid to it, since you can see each maid's schedule right from the app – so you don't have to guess who is working when! With the cleaning business software app, you are able to do your work in real-time, effectively communicate with the client, and communicate with your staff all in one place, providing superior customer service.
Employees also have the ability to view customer work orders in the field. This can provide details to your cleaners about how to access the customer's home, additional fees, time expected, what rooms need cleaning and any comments about a specific room. Our mobile app supports long comments in both English and Spanish for accessibility as well as provides them with the specifics for each house cleaning. This functionality allows managers more freedom, gives employees the tools they need for success and helps to guarantee your providing satisfaction to each and every one of your customers. 
Be sure to check out all of our mobile app features, as well as our desktop options!
Cleaning Company Software in the Palm of Your Hand
Our mobile app is available for both Android and Apple users. We are constantly making updates to improve functionality and ease of use for business owners, managers, and employees. If you are interested in getting more information, be sure to call MaidEasy at  402-434-2196 or visit our contact page for your free trial today!