Take a Tour of MaidEasy
Cleaning Business Software: Online Version
Take the tour below to see how the MaidEasy cleaning business software: online version will help you manage your residential cleaning business. Request your free trial here.
Main Menu
Tired of complicated programs that are hard to maneuver around in? We have an uncomplicated, easy-to-understand menu to quickly access each area.
Customer section
Keep your residential cleaning business customer files and jobs organized.
Document phone logs.
Create cleaning schedules with reoccurring frequencies.
Enter the specific cleaning details for each job.
View a complete history of past cleanings.
Store credit card information and more.
We understand that your customers' scheduling needs are always changing, and you need to make those changes easily and quickly. MaidEasy lets you easily:
Edit details, dates, times.
Move or skip cleanings.
Add memos for special instructions that are attached only to those individual dates.
Staff files and pay information
Managing your employees will be a breeze, since MaidEasy files all the information you need in one location. These personnel files track:
Contact information.
Pay rates.
Documentation.
Birth dates, review dates, anniversaries.
Employee-specific user rights and team assignments.
Hours worked.
MaidEasy is designed to figure out percentage pay or hourly pay rates. If you pay hourly, you can pay an hourly rate for cleaning time and a different pay rate for travel time between jobs.
Schedule section
It's easy to change views and rearrange schedules with MaidEasy. You can change your clients' details, times and team assignments with just a couple of clicks. When employees call in or clients' schedules change, drag and drop cleanings to quickly rearrange your schedule for the day.
Our schedules also let you:
See maps of your clients' locations.
Review who needs reminders and complete them by email or text message.
Print work orders and schedules for staff.
Set up each staff member as a mobile user so they can login to see their own schedules on any device.
Finalize
This section helps you complete your jobs for the day. With MaidEasy you won't forget to bill clients or charge their credit cards.
Get a list of all the clients who need their credit card charged, and process each client's credit card with just a click.
Enter the information for the invoice.
Apply payments.
Confirm which employees cleaned the account and the time it took to complete the job.
Keep track of mileage pay and tips.
MaidEasy has the tools needed to track your employees' wages and hours and the profitability of each job.
Accounting
Manage all your clients' accounts receivables. Easily send invoices or post payments from your client's account. Run reports such as the aging report, which lists clients with unpaid invoices. Never again forget to collect an outstanding balance.
Payroll
Review the payroll register to see all employees' wages for any given time period. Calculate pay by percentage or hourly pay rates.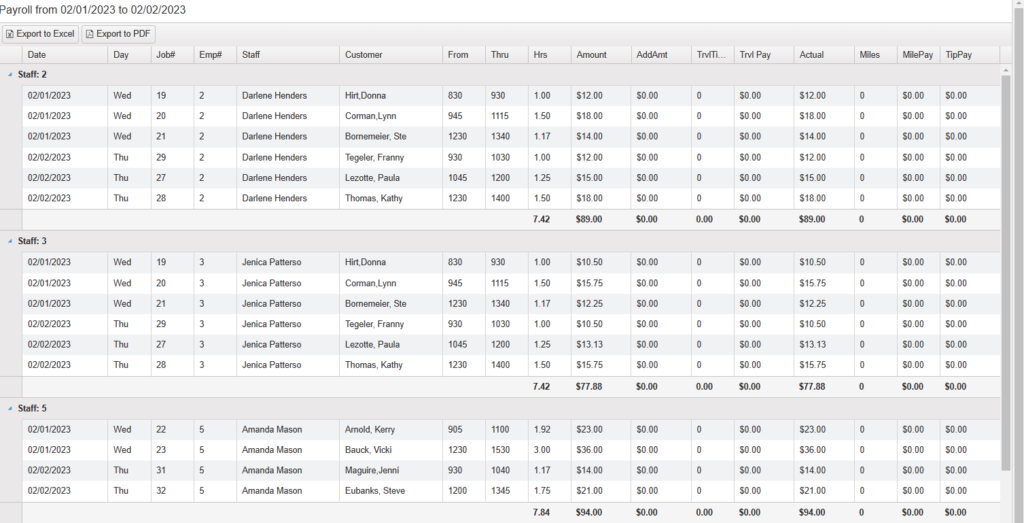 Reports
Use the reports section to manage details about your business and know your numbers.
Access customers lists, staff lists, review dates, anniversaries, projected volume reports and many more. The job analysis can help you manage how many jobs you have by frequency and by status and you can compare how many jobs have been lost or gained during any time period selected.
The gross net profit report will break out your profit by job, day and week this will show you the percentage of profit on the job after labor, travel and mileage have been figured. The Dashboard on the main menu also has a quick view of a few reports that you will need the most.