If you are a residential cleaning company, chances are you are paying your employees by the hour. But what if there were another way to pay your cleaners? A way that both increased profits and productivity? Percentage Pay may be the answer for you!
What is Percentage Pay?
Percentage pay is a way for an employer to pay employees based upon personal contribution rather than a flat salary or hourly wage.
Choosing how much you pay in percentage pay is key. Most businesses will want to pay between 36% – 42% (depending on location and demographic) of a job's fee amount. Most employees will typically earn way above the minimum if the jobs are bid correctly. Additionally, if there are two employees cleaning, one will likely be considered senior and have both more responsibility and earn a higher rate. The split might be 17% and 21%. If it is a singular person, they may get 38%, however, the job big would likely be smaller because one person cannot clean as much as two.
This example shows one employee receiving percentage pay and the other receiving hourly pay. If you look, the employee receiving percentage pay is also getting paid mileage – increasing their wage even more. MaidEasy's Software calculates an employee's payroll while also keeping track of miles paid for travel as a NON-taxable event. The profit is in the details!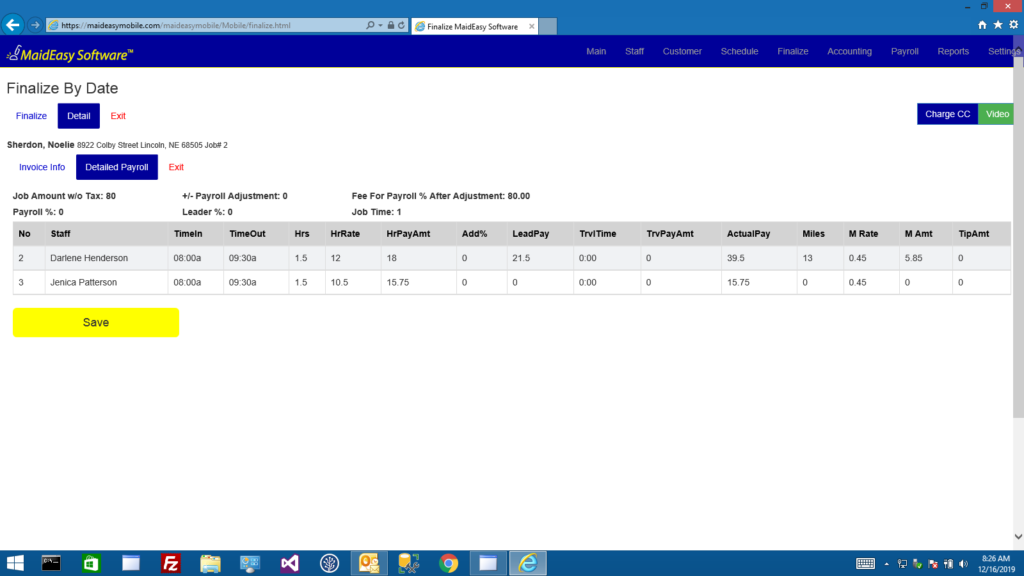 Keep in mind there are minimum wage requirements for all states – you will need to track employees' hours to ensure that the gross wages employees earn averages out to at least minimum wage. In addition, you will need to keep records and have proof each employee is on target to make at least minimum wage.
Benefits of Percentage Pay
Percentage Pay is mutually beneficial for both employer and employee! Typically, both employers and employees will find themselves actually making more money per hour on a percentage pay system.
-Percentage Pay can control your labor and time.
With percentage pay, you will have the ability to control your labor and time. You will know that every dollar your business gives to employees will result from the time spent working. Percentage Pay will also naturally encourage your employees to give high-quality service, as they will be getting paid for a job well done – and not just a wage no matter what kind of work they produce or how long they work.
-Percentage Pay rewards hard-working employees.
With a Percentage Pay Plan, it will no longer be beneficial for your employees to take advantage of the time, as they will get paid on job performance. Your hard-working employees will naturally be paid more as they excel on the job, meaning, the customer is not only a client for the business, they are a client for your employee! While this benefits your employees, it benefits business owners too! Think of the positives that come from hard-working employees – great reviews, referrals from satisfied customers, and continued business means more profit for both of you! And specifically, a thriving cleaning business to continue for years.
-Percentage Pay Management is "MaidEasy"
If you are interested in percentage pay but nervous about how to implement it, consider using MaidEasy Software for your cleaning service's payroll management. Regardless of how you pay your employees, MaidEasy's custom residential cleaning software makes payroll a breeze.
MaidEasy Software files all the information you need in one software. Easily view employee pay rates, hours worked, team assignments and more within staff files. MaidEasy is also designed to figure both percentage pay and hourly pay rates. If you pay hourly, you can pay an hourly rate for cleaning time and a different pay rate for travel time between jobs. We also provide payroll and gross profit reports to view and manage your labor costs.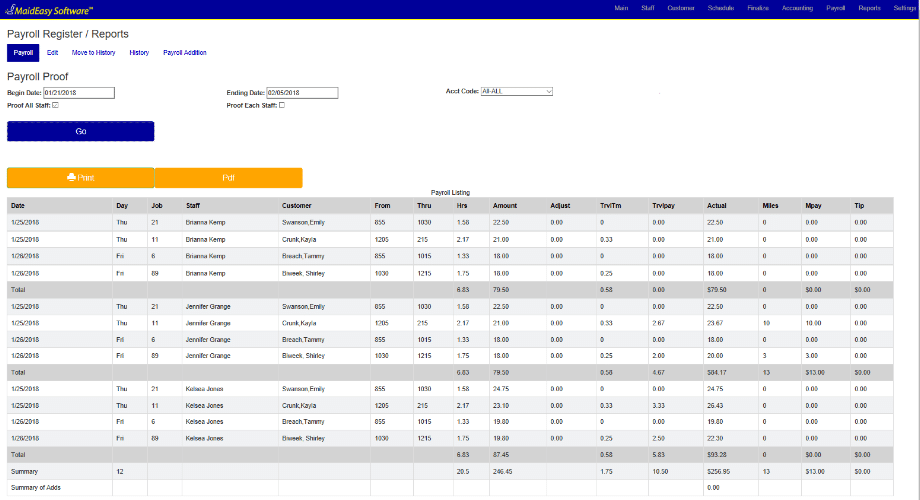 Percentage Pay is such an effective way to maximize profitability and productivity.  Your hard-working employees will stand to earn more, your labor and time will be controlled – meaning you will know where exactly every dollar you hand out will be going, and MaidEasy can make your transition into Percentage Pay smooth and simple.