As the owner or manager of a cleaning business, keeping up with your clients is most likely a high priority. However, your daily responsibilities might easily get in the way of keeping up with job numbers and collecting data-driven client insight. To help you keep up with your business client intel, the creators of Maid Easy developed a feature on the MaidEasy house cleaning software called the job analysis report. This gives you access to your job numbers for your business and allows you to draw informed conclusions based on that data.
Job Numbers
The information that you receive from the job analysis reports allow you access to specific job numbers:
Compare jobs gained versus jobs lost
How many active jobs you have in total
How many on-call jobs you have
How many one time jobs you have

Active jobs that started from 1-1-20 to 6-30-20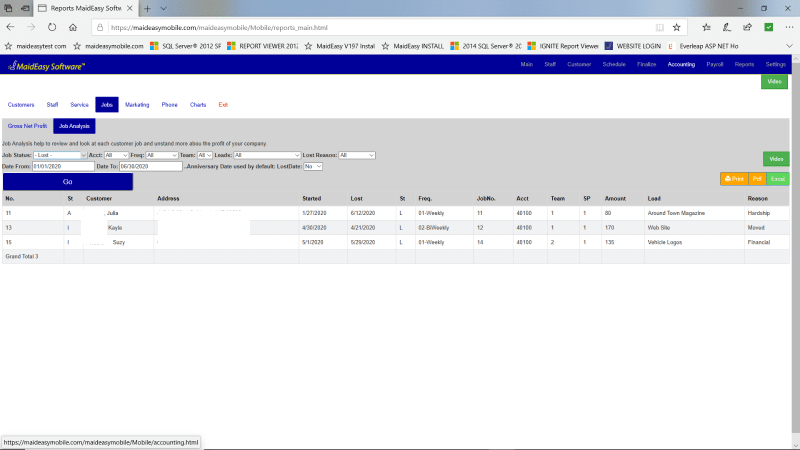 Lost Jobs from 1-1-20 to 6-30-20
Data Driven Decisions
Not only does the job analysis report give you specifics on job numbers, this feature can also pull job numbers in a variety of different ways. This gives you the flexibility to obtain a wide variety of information that allows you to make data-driven decisions for your cleaning business.
A few examples on how you could use this data:
Advertising your company when business is down
Creating cleaning specials based on your busiest time of year
Trends in personnel issues
And More!
MaidEasy's job analysis tool brings so much value when it comes to job insight on your clients. Whether just looking at the numbers, or going more in-depth by searching for patterns and trends. If you are interested in understanding more about your client base, contact us today for your free Maid Easy trial!