"We will no longer be utilizing your services."
Jacob, Maid & Clean's owner just received this phone call – a call no business owner wants to receive. He racks his brain to understand how this could have happened.
"We do an excellent job cleaning – our client said so themselves. We are professional, courteous, and show up…."
It hits him.
With his duties multiplying, from onboarding new clients to training his growing staff, he forgot to write down his client's request for extra services for the months of September & October. This scheduling mistake cost him one of his biggest clients.
Jacob made a mistake: he let a client slip through the cracks. He knows that cleaning services, like most businesses, rely heavily on word of mouth and online reviews. Mistakes like these have the potential to ruin a business. All because of a simple scheduling error.
Mistakes happen – even to someone as invested as Maid & Clean's owner, Jacob.
MaidEasy Software understands the importance of scheduling clients in an efficient, no room for error, manner. We have seen the pitfalls of "do it yourself" scheduling.
These are the three biggest errors we see cleaning businesses make when trying to schedule their clients:
1. Scheduling By Hand
As you are manually creating your schedule, you copy reoccurring clients from the previous month. This activity not only takes up a lot of time, but you also put yourself in a situation where you could miss writing a client down. All of a sudden, you are receiving calls that you did not show up for cleaning and disappointing your clients, or worse, they decide to cancel your services.
MaidEasy will never make you second guess your scheduling. With a few clicks, you will be able to build your customer's customized schedule quickly and efficiently with an easy-to-use interface that is accessible to you and the members of your staff, whether on your desktop or your mobile device. 
2. Simple Calendar Programs
Simple calendar programs can oftentimes be difficult to manage all of the complexities of a cleaning business's customers. There can be one-time changes to jobs with specific details, future services with fee changes, special instructions, or skipped cleanings. Making multiple changes to multiple days while not affecting all the reoccurring cleanings in simple calendars can be difficult or impossible.
MaidEasy understands your clients are unique. Each client has specific job details, from scheduling, to which rooms and specific cleaning requests. Your scheduling software should reflect that. MaidEasy Software is written only for cleaning services. You won't have to compromise while trying to fit your company into software that is programmed for other service industries. MaidEasy's custom calendars make scheduling easy and let you manage the complexities of scheduling confidently. It's easy to make reoccurring and one-time changes to individual details like just changing the time or fee of a job without overwriting other future changes.
3. Internal Communication
Keeping every staff member on the same page can be nearly impossible. That includes communicating a schedule with 100% accuracy to all of your employees through different platforms such as written schedules, texting, email, etc. You might accidentally double-book two of your staff leaving a frustrated employee and an even more frustrated client. The potential mistakes of multi-platform communication exponentially increase your chances of making a vital mistake.
MaidEasy's scheduling is all in one. Our cleaning service scheduling software allows you to make changes on one platform, and your employees are able to view their schedules on their desktop or on their mobile devices. This cuts down on scheduling errors and is easy for employees to check on, ensuring everyone is looking at the same accurate schedule.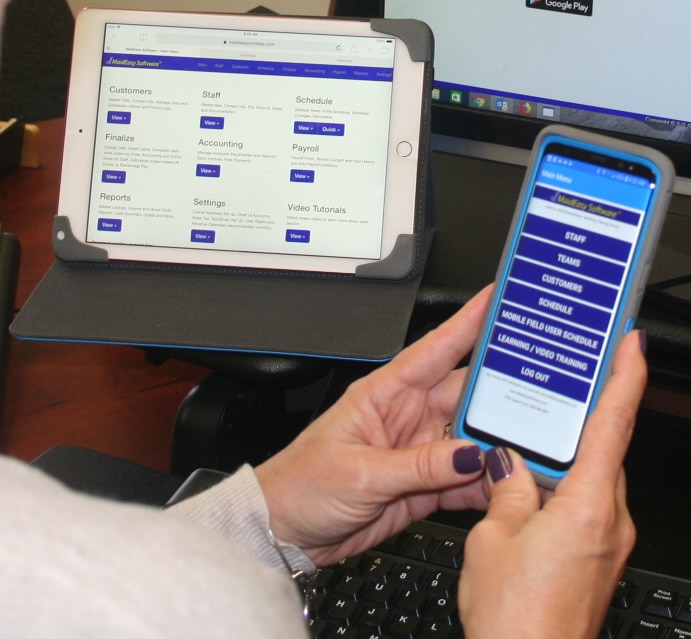 Stop Worrying About Scheduling Errors

Scheduling is tedious, detail-oriented, and offers a lot of room for error. Even after all of that hard work, one of the three scheduling mistakes listed above could be the reason you lost a client. That is why MaidEasy is here to schedule with dependable accuracy. We have continued to refine the MaidEasy experience for business owners and managers like you to make your company effective and efficient. We understand scheduling is a vital piece of that success puzzle. And it doesn't take a lot to make a big mistake.
So do yourself, your employees, & your clients the biggest service: Click here to start your free MaidEasy trial today!